Navigating the Course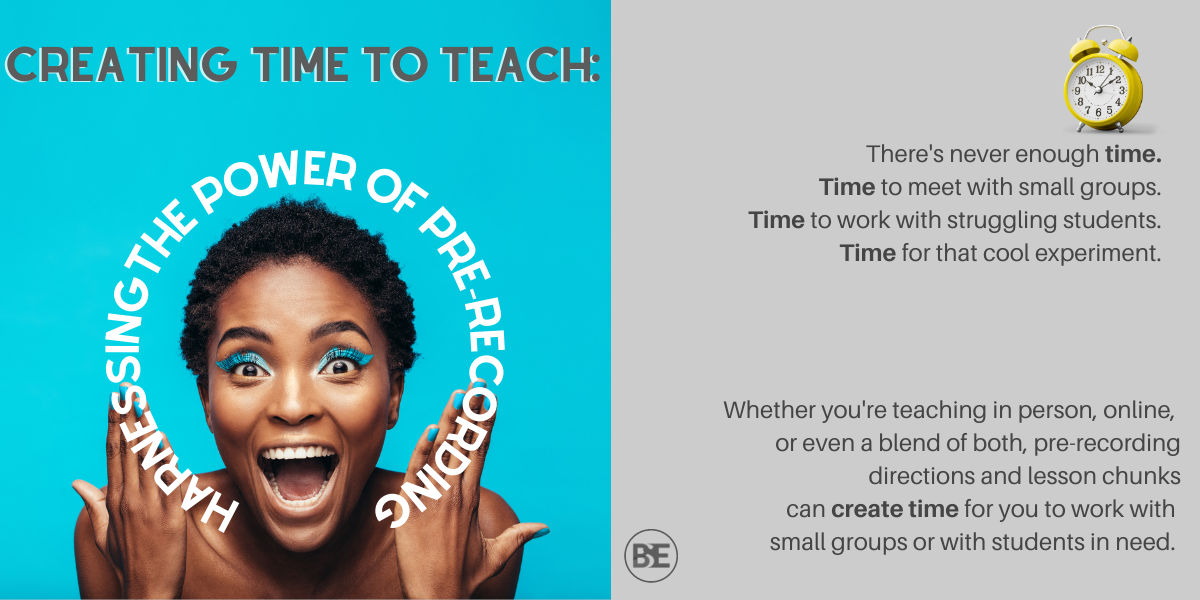 ---
How to Navigate Through This Course
This section provides clarity for navigating Creating Time to Teach: Harnessing the Power of Pre-Recording.
Please move through this short section to gain the most from this micro-course.


1) Each of the four curriculum sections in this micro-course begins with the same graphic at the top of the page to remind you about the course name and why you are enrolled in it.
The top graphic also provides consistency in this virtual format.
The rectangular graphic is divided into a left and right section.
The left side includes an excited woman looking at the camera on a blue background.
The right half consists of descriptive sentences and a yellow alarm clock on a gray background.
The yellow alarm clock is a reminder that this course helps teachers create time for teaching small groups or individual students.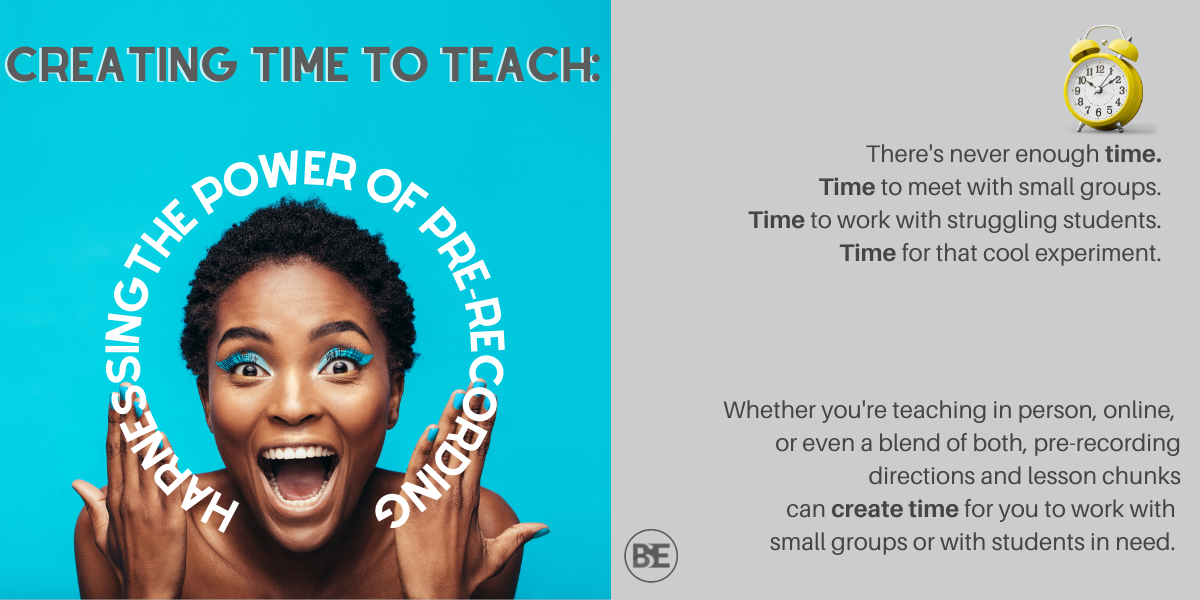 2) Next, on each page you'll see the same course information in a square graphic with a blue outline.
This graphic reminds you of the four curricular course sections as well as provides course objectives for your reference.
As educators we know the importance of reflecting back on objectives as we design a lesson and as we participate in learning, too.
So this graphic is included in each section to help learners mentally organize their learning.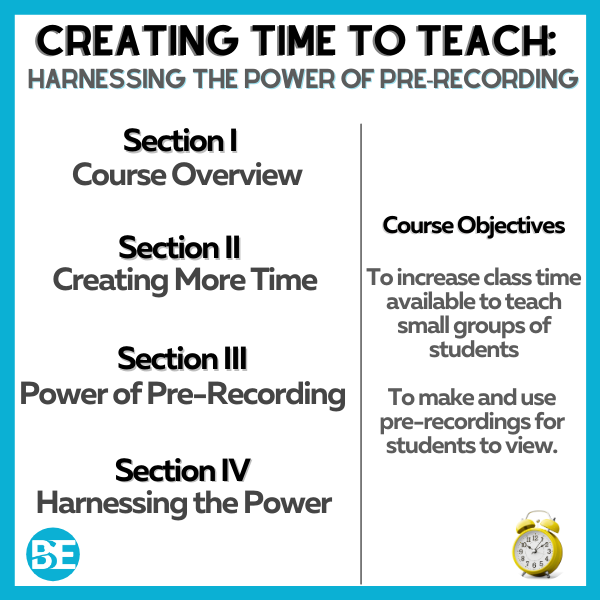 3) All four curriculum sections will include a yellow-outlined, square graphic that is unique to each section.
The graphic lists the curriculum section number and name, and outlines each activity within the section.
Course objectives are listed on the right side to help maintain clarity of focus throughout the course.
Below is the Section I graphic that serves as a model for each section of this course.
Please do not follow Section I directions at this time. Section I's graphic is provided here solely as an example of what learners will see at the start of each section.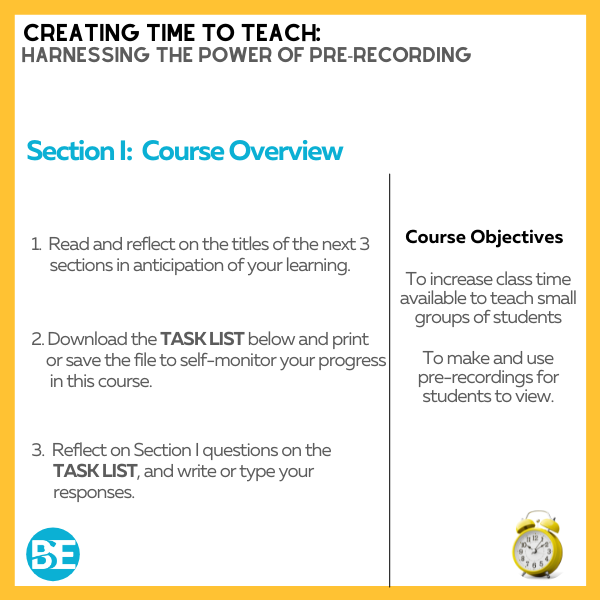 4) At this point in each section learners move through assignments and activities as listed in each section's yellow-outlined square graphic.
Assignments vary from downloading a task list to viewing videos to implementing learning.
Please note that some PDFs and videos are available for download, but not all; however there is an option to download transcripts for any videos that include narration.
Scroll to the bottom of the item for the opportunity to download (if it is available).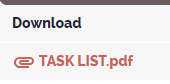 5) Participants use the task list as a helpful course guide and as a reflection document.
It's important to respond to task list questions either via computer or by writing, depending on your choice.
Writing or typing a response requires a deeper thinking process than merely taking a moment to think about what you would write.
You will have the opportunity to download the task list during Section I: Course Overview.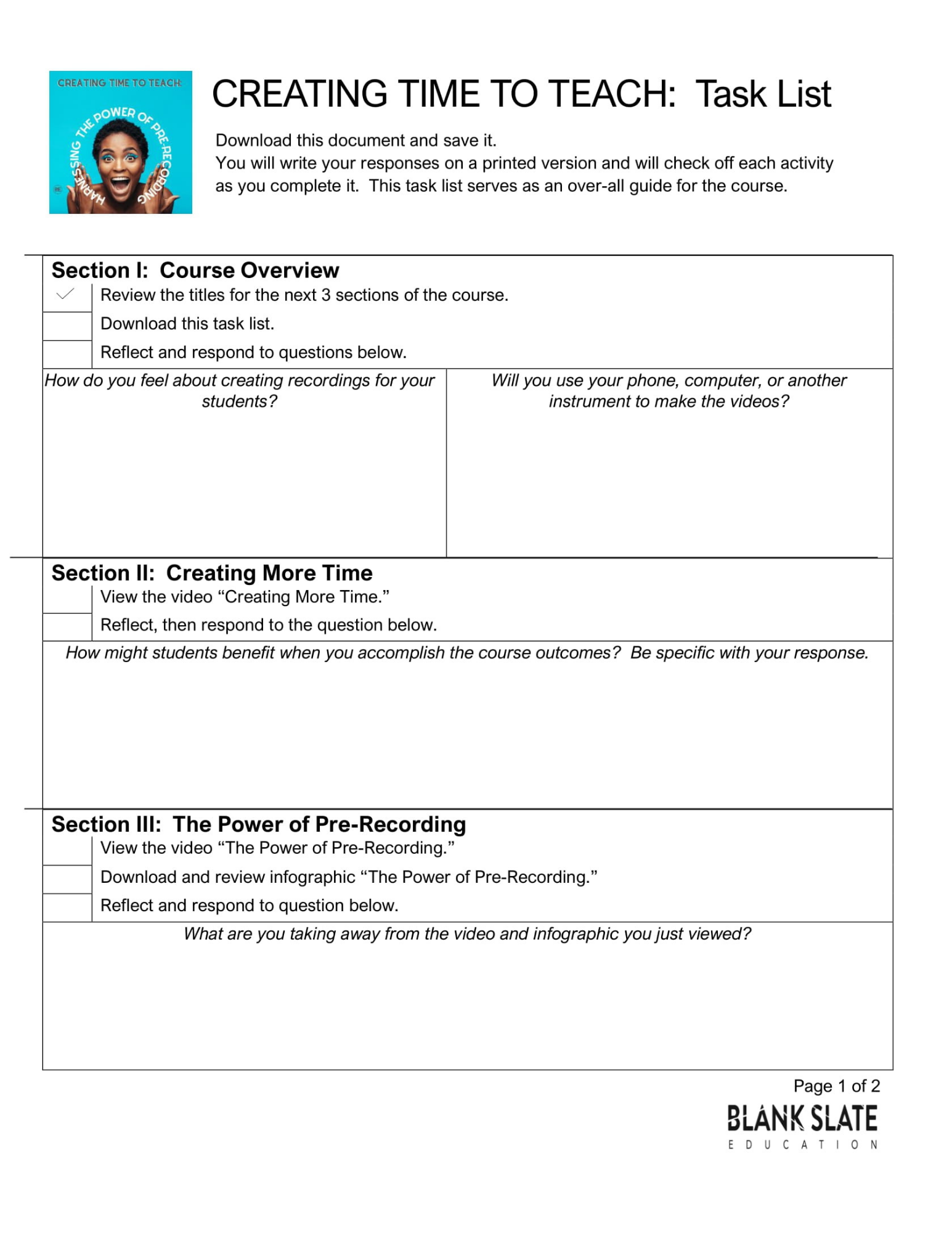 6) Once participants have completed all activities in a section it's time to move to the next section and continue following directions.
This course includes the current section, Navigating the Course, and four additional sections in which the curriculum is the focus.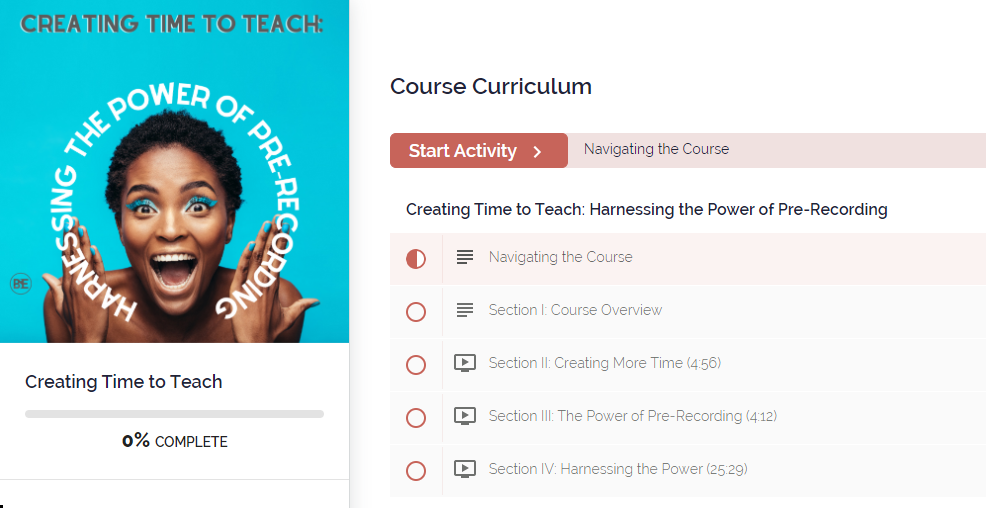 7) This completes instructions for navigating this course.
You can review this page then move to Section I when you are ready to do so.
---